Having IVF treatment can be stressful, both emotionally and financially. In addition to our standard charges, we offer different ways for you to fund your IVF/ICSI treatment at BCRM, including fixed price treatments with a money-back guarantee in partnership with Access Fertility.
Access Fertility pre-pay IVF Refund & Multi-Cycle Programmes
Access Fertility programmes are designed to give you financial peace of mind and a reduction in IVF cost compared to paying for the same treatment and benefits as you go along. The 100% Refund Programme from Access Fertility gives you all your money back if treatment isn't successful.
As a BCRM patient you have various Access Fertility programmes to choose from: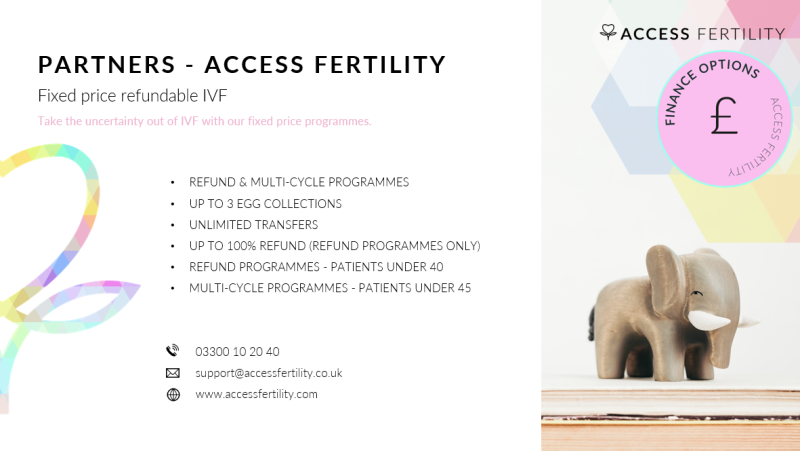 IVF/ ICSI Refund Programme:

Up to 100% refund if you don't have a baby
Up to 3 cycles of IVF/ ICSI
Unlimited frozen embryo transfers
Fixed, discounted fees that could save you 1⁄3
Available to women under 40 using their own eggs
Subject to medical review
IVF / ICSI Multi-Cycle:
Fixed, discounted fees that could save you 1⁄3
Up to 2 fresh cycles of IVF/ ICSI
Unlimited frozen embryo transfers
Available to women under 45 using their own eggs
No medical review required
No refund element
IVF / ICSI Unlimited:

Unlimited IVF / ICSI over a 2 year period
Unlimited embryo transfers (fresh and frozen)
100% refund if you do not have a baby
Patients using their own eggs
Options for all patients under 38
Subject to medical review
You can find out more about available Access Fertility programmes:
on their website, by calling Access Fertility on 03300 10 20 40, or contacting us by email: finance@bcrm.clinic