IVF treatment as a single woman
IVF treatment at the Bristol Centre for Reproductive Medicine - BCRM - as a single woman
For me the hardest thing about having IVF as a single woman was making the decision to contact the fertility clinic - BCRM to ask about the IVF process. I should never have worried, as every member of the BCRM team was helpful, caring and completely non-judgmental. I had been thinking about having a child as a single woman for ages; I had always wanted to have children and had thought it was just something that would just happen, however as time went on and I still hadn't found 'Mr Right' I began to seriously think about other options. As I approached my 40th birthday without a partner it was obvious to me that I had to make a decision; if I was going to investigate the options for fertility treatment as a single woman, then I really had to get on with it!I contacted BCRM and had an initial, very friendly conversation with Fertility Nurse Manager Carrie over the telephone. I was then emailed a form to complete with my medical details. My first appointment was with Mr Valentine Akande who reviewed my medical history, performed an internal ultrasound scan of my pelvis and organized for several blood tests to be performed. Mr Akande explained that as I was 40 he would recommend going straight for IVF, rather than trying with intra uterine insemination (IUI) which has a lower success rate in older women. He explained the process of IVF including the success rates and associated risks. Mr Akande also discussed the process of sourcing donor sperm.I spent some time at home looking through the donor sperm website in the USA to find some appropriate donor sperm.
Mr Akande explained that not all donor sperm can be used in the UK due to the UK regulations and that I would need to choose donors that were 'UK compliant'. I found the donor sperm website very easy to use, however I found the process of choosing a donor quite emotional - it brought home the fact that I was embarking on fertility treatment because I didn't have a partner. I ended up choosing a donor based on 'gut instinct' having read the donor's profile – he seemed nice! I decided not to look at any photographs of the potential donors, but could have if I had wanted.I had a further appointment with the Fertility Nurse Carrie, during which I had multiple blood tests taken and again discussed the practicalities of an IVF cycle including the drugs required and emotional burden of the process. We reviewed the sperm donor profile that I had chosen to make sure that this was an appropriate choice. Carrie put me in touch via email with lab team at BCRM who arranged the practicalities of importing the donor sperm from the United States.
I had decided that I would have up to 3 cycles of IVF (if the initial cycle was successful) and that I ideally I would like more than one child (although I realised I was being very optimistic!) and therefore I purchased three vials of sperm from the same donor so that I could have at least three attempts of IVF and could have the option of having a second child with the same genetic make-up.I was also advised that I was required by UK fertility regulations to have a an appointment and discussions with a Counsellor to ensure I was aware of the issues that are associated with having a child as a single woman. I was slightly wary before the appointment, however I found the session to be very useful.
We talked through the emotional and practical issues and Wendy told me about various resources and publications that were available through the Donor Insemination Network that could be used to explain to children born through donor insemination how they came to be. Although I decided I did not want to make contact with the Donor Insemination Network, or purchase any of the resources, I am sure this is something I will come back to the future when the time is right.I then had a follow-up appointment to discuss my blood results and was pleased that they suggested I had a good ovarian reserve. Based on my blood results Mr Akande and Carrie planned my treatment cycle.
I met then with Carrie to go through my treatment cycle in detail. Carrie suggested that rather than using the inhaler to take the drug to suppress my ovarian function which needs to be sniffed every four hours that it may be easier for me to use an injectable form of the same drug which simply required one injection per day. With a busy job I would have found it difficult to sniff a drug every four hours, and I was very happy that I chose to once inject daily instead.Obtaining the drugs was very simple, once my treatment regimen was planned the BCRM liaised with the drug company and after I had paid for the drugs over the phone the company arranged for them to be delivered to my house. The drugs arrived in a cold container and I simply then had to store them in the fridge.
I was then sent a treatment cycle plan outlining which drugs I need to take on which days based on the first day of my last period. I was initially wary of having to inject and the process suddenly felt very real when I injected for the first time. However, I was pleasantly surprised that the needles were tiny and I could hardly feel anything as the drugs were injected. I was very lucky during my treatment cycle and didn't really have many side-effects at all. At the height of my 'down regulation' I felt slightly old and wrinkly (!) but nothing that was severe. Whilst I was stimulating my ovaries with the FSH I had some mild lower abdominal pain and felt slightly bloated but was able to continue with life as normal. I had multiple scans to monitor my progress of the follicle development until I was ready for egg collection.I was slightly worried about having egg collection. I went into the BCRM at 7:30am, everyone was lovely and explained what was going to happen.
The process requires a very light general anaesthetic. The egg collection itself didn't take very long, and I woke up feeling absolutely fine with no pain. I was delighted to be told that they had collected 14 eggs! I was home before lunchtime, and although had to have somebody with me for the next 24 hours, I felt fine and took the dog out for a walk that afternoon.Two days after my egg collection I was telephoned by one of the Embryologists who excitedly told me that I had 12 developing embryos. This was far better news than I could have ever have hoped for. The next few days were exciting but slightly unsettling as every day, depending on how the embryos were developing, there was the potential that the Embryologist would tell me that today was the day I needed to go in for embryo transfer. Every morning the Embryologist phoned me to keep me up-to-date with how the embryos were doing. I was very lucky and had embryos that were developing well and was therefore was able to wait until day five transfer for the transfer.
Given my age of age, we initially had planned to transfer two embryos, however because they were very good quality we decided to transfer only one embryo so that I didn't have twins. I agreed that as a single woman looking after twins could be very tricky and was also aware of the increased risk of miscarriage and premature birth with a twin pregnancy and therefore was very happy to take the team's advice on what was most like to give me a successful outcome. Amazingly I had four embryos that were able to be frozen. I was therefore less stressed that if the first embryo transfer didn't work I had further chances of pregnancy without having to start the whole IVF process again.
The embryo transfer itself was quick, not painful and no worse than having a smear test. It was hard to know what to do following the embryo transfer I decided to try and carry on as normal and so went home had a quiet rest of the day. I had to start taking my progesterone pessaries every 12 hours.
The next two weeks did seem to drag. It was impossible to know whether there were any signs that could indicate that I was pregnant or whether it was just the effects of progesterone pessaries I was feeling. I felt bloated and slightly constipated and my breasts definitely grew, but apart from some tiredness I didn't have any other symptoms. I felt slightly adrift during the 'two week wait'. In the lead up to egg collection I was having regular monitoring and feedback of my follicle size. Following egg collection the daily telephone calls from the Embryologist discussing the development and progress of my embryos provided regular feedback on progress. However, following the embryo transfer it was literally just a case of waiting two weeks with no monitoring of anything – this felt weird and I felt I should be doing something. Waiting to do a pregnancy test was very difficult but I managed to hold out until day 12 days after the transfer as advised by the fertility team. Initially I was convinced that the pregnancy test was negative but I had a faint positive line and therefore knew that the first time in my life I was pregnant!
This provided an incentive to keep taking the progesterone pessaries and make me feel that my tiredness was potentially due to being pregnant and not just being overworked! Over the next couple weeks I felt a bit nauseous and therefore thought that something might be happening but was also concerned that I could have read my pregnancy test wrong and that I was imagining my symptoms. I was delighted when at six and a half weeks I had an internal scan at BCRM and saw a tiny pregnancy with a heartbeat.
The IVF process itself was relatively straight forward. However, I am not sure I could have coped without the alarm function on my iPhone reminding me to take my drugs at various times through the day. I was very lucky and had very few symptoms. I had chosen only to tell three close friends I was undergoing treatment, so didn't have lots of people constantly asking how things were going managed to carry on with normal life as possible throughout the process.
The most difficult thing for me was making decision to have the treatment in the first place. My 'fear of failure' was not that I couldn't get pregnant because I was infertile, but that I had failed in finding the right person to have a baby with. This is probably a bigger deal to me than I let on to my friends and family and when I was considering whether to embark on treatment everywhere I looked I seemed to see dads with babies – walking down the high street, in the supermarket, everywhere….. I seriously questioned whether it was sensible to purposely bring a child into the world without a father. It was not something I would have chosen to do but, at this stage in my life, I my options were limited. However, when I looked at the families of my friends many of them were not a straightforward 'mother, father, children family' and I felt there was now much less of a sense of 'a normal family' – which is very different from when I was growing up. I realised it really isn't uncommon to have an unconventional family set up and I decided if I was successful at having a family then we would just fall into that unconventional bracket.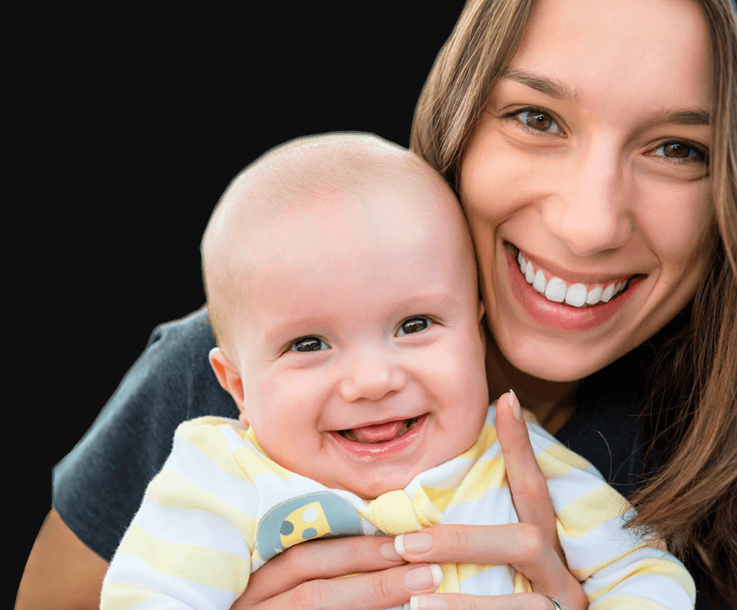 I was worried what the reaction of friends, family, work colleagues and acquaintances would be when I told them I was pregnant. However, I shouldn't have worried because everyone was delighted and very supportive, if very shocked! I didn't receive any negative comments or judgements (I'm sure behind my back there were a lot of worries expressed about how I was going to cope) just genuine pleasure and excitement at the news. I decided from the outset to be open and honest about the fact that I had had IVF with donor sperm. Lots of people were interested in asking about the process and wanted to know how it worked – but I didn't find their questioning too intrusive. I was surprised how many people knew someone that had had a child as a single woman through fertility treatment, or who wanted to have a child and were single.I have been completely blessed to have had the most gorgeous baby (I may be a little biased!). I have surprised myself how well I have coped as a single mother. There have been some difficult times, but I don't think I have struggled any more than any other new mother. I have the advantage that I can leave the house in a complete mess without worrying what my partner will think, I don't have anyone to argue with about 'whose turn it is to do the next nappy' or 'who is the most tired'. I have no expectations that I am going to have any help – so when friends and family help (and they have been really great) it is always a welcome treat. In the first few weeks I had a lot of support with my mum or sister staying with me for the first 10 days. I realised I can manage about three weeks at home by myself, before I start flagging and have therefore enjoyed going to stay with friends or family for a few days a change of scenery and someone to cuddle the baby whilst I have a long shower.
I was concerned when the Health Visitor first came to the house and I had to explain I was single – but felt totally unjudged and supported. I was apprehensive about 'Registering the Birth' as there was no father to register, but the Registrar was very lovely and didn't ask any difficult questions. I also wondered if applying for a Passport would be more complicated as a 'Single Woman Donor Sperm Parent' but had no problems completing the form or receiving the passport.I realised I didn't absorb much of the information I was given in the initial Counselling Session about when the child can trace their father, or if he can trace them, and how the process would work. I think I just couldn't cope that level of detail before the treatment when I child was just a distant wish. I am planning to organise a further counselling session at some point in the future to discuss these issues again and perhaps order some of the children's books to help me tell my child how they came to be.Would I recommend IVF to a single woman wishing to have a family – absolutely yes! There will no doubt be difficulties ahead but we are both happy, heathy and loved. The whole BCRM team were brilliant, supportive and caring throughout the whole process. My advice to anyone who is thinking of having fertility treatment as a single woman is think about it carefully, but don't be scared and go for it! One happy patient.
If you wish to find out more about Fertility Treatment options, please email: info@bcrm.org.uk or ring 01174 146 888